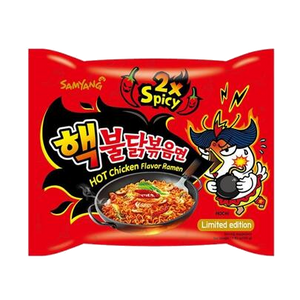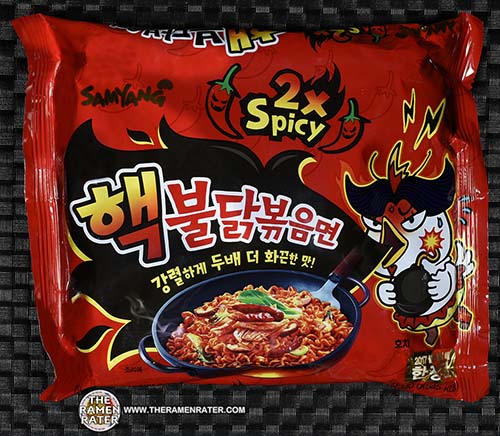 Part Of The Ramen Rater's Definitive Guide To Samyang Foods' Buldak Bokkeummyun
2X Spicy HOT Chicken Flavor Ramen / 핵불닭볶음면 / Hack/Haek Buldak Bokkueummyun / Launch 2016.1 / SHU 8,808
Samyang Foods Haek Buldak Bokkeummyun - South Korea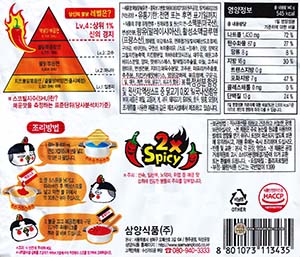 Here's the back of the package (
click to enlarge
). Looks to be meat free but check for yourself. To prepare, Cook the noodles in 600ml boiling water for 5 minutes. Drain, saving a 120ml of the liquid. Add in liquid sachet and return to the stove and stir. Let sizzle for 30 second. Add garnish. Finally, stir and enjoy!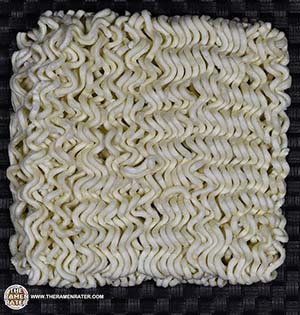 The noodle block.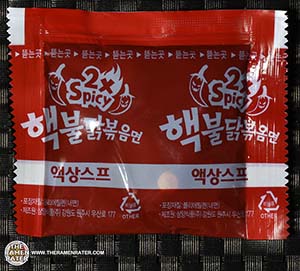 The liquid base sachet.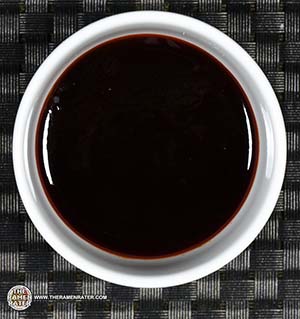 The fire! So when I opened the sachet and poured the liquid into this little soju cup, I got a little on my fingers. Tasting it was a look at things to come. My lips burnt for about a half an hour! Indeed, I ran to wash my hands! Can't have that kind of fire on my fingers - rubbing an eye is one thing, but we have a 2 month old and an 18 month old here - not looking for more meltdowns!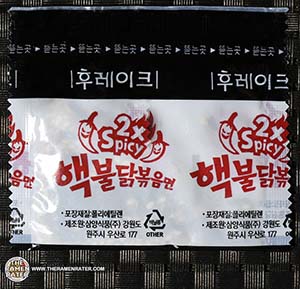 The garnish sachet.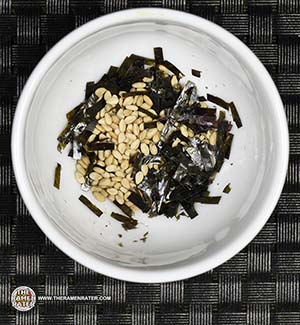 The garnish appears to consist of sesame seeds and bits of seaweed.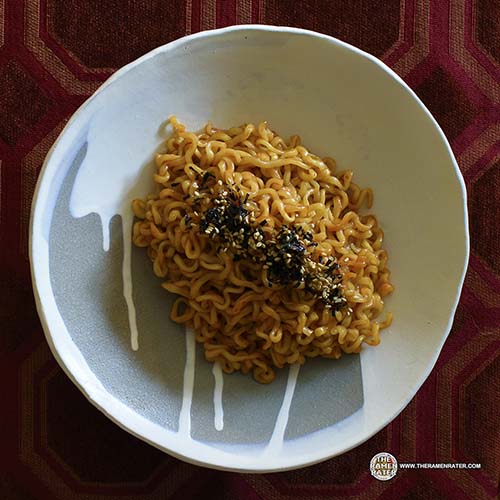 Finished (
click to enlarge
). Alright so here we go. The noodles are just awesome - thick and chewy - super thick ramyun with a nice mouthfeel. Now, the flavor speaking of the feeling in my mouth... FIRE! I mean really this is seriously painful stuff. It is not something to give a person who can't handle heat (although I was quite impressed my 11 year old Andy was able to cope with it although it took a few tortilla chips and 3 peanut butter cups to put out the fire).  My take one the experience is that anyone could eat as much of it as they wanted; as long as they don't stop. You are greeted warmly  (no pun intended) by a nice sweet kind of flavor at the outset. If you continue to scarf down the noodles, it continues this way. Until you stop. Once you stop, the fire begins. The heat builds to a crescendo I can only liken to putting one's tongue on a hot stove. Truly this is the hottest I've had yet. Haek Buldak Bokkeummyun, you win! 4.0 out of 5.0 stars. EAN bar code 8801073113435.
Product of Korea.