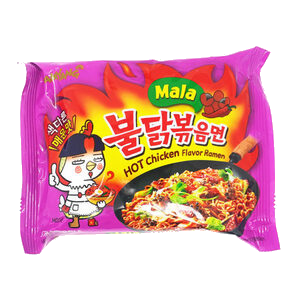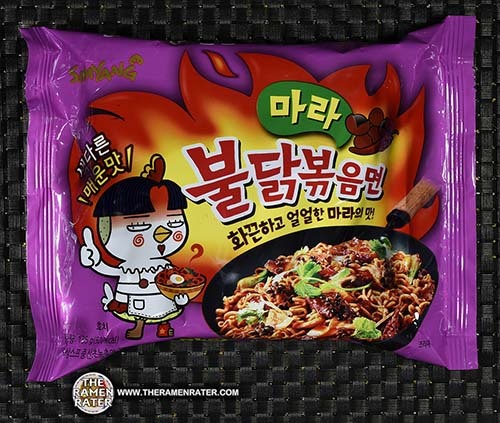 Thanks go to Amelia from Samyang Foods in South Korea for sending these along! The Buldak Bokkeummyun line from them is a fiery range which starts with their hot chicken flavor of Fire Noodle Challenge fame. Here's what they have to say about this one -
MALA BULDAK BOKKEUMMYEON (HOT CHICKEN FLAVOR RAMEN MALA) This is a differentiated 'Mala(numbing and spicy)' flavor of BULDAK BOKKEUMMYEON(HOT CHICKEN FLAVOR RAMEN). It features a spicy numbing stir-fry noodle with Chinese 'Mala' sauce. It's a combination of numbing spicy taste and the original flavor of Hot Chicken.
This 'numbing' kind of heat comes straight from Sichuan peppercorns. Here's a little about Mala sauce from Wikipedia -
The precise origins of the dish are unclear, but many sources attribute its development to night markets in Chongqing that targeted pier workers in the 19th to 20th century.[1] The strong flavour and thick layer of oil helps preserve foods and removes the unpopular smells of the cheap foods, such as solidified blood, beef stomach and kidney, which were usually served to pier workers. Despite the strong flavour by itself, various dipping sauces are often served to make the texture of cooked meat smooth and oily, and the tastes more complicated.
I must admit although kind of logical, I wasn't expecting this flavor. This could be a great one for the Chinese market actually - Taiwan too. Well, let's start the fire!
Samyang Foods Mala Buldak Bokkeummyun - South Korea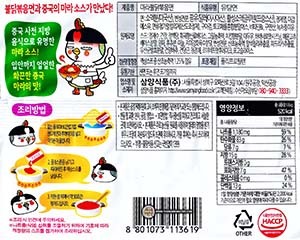 Here's the back of the package (
click to enlarge
). Looks to be meat free but check for yourself. To prepare, add noodle block and dry sachet to 600ml boiling water and cook for 5 minutes. Drain, saving 120ml liquid. Add in sauce and saved liquid. Stir-fry over high heat for 30 seconds. Stir and enjoy!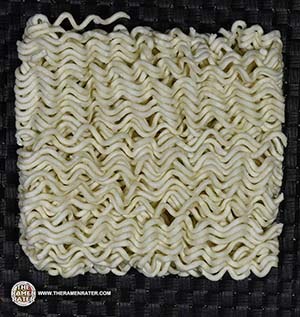 The noodle block.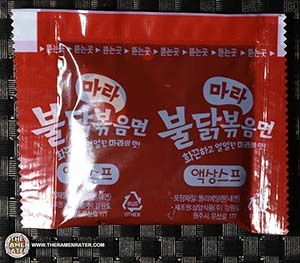 The soup base sachet.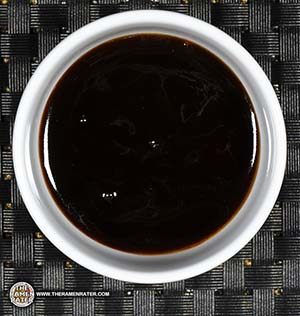 Thick, dark and ominous!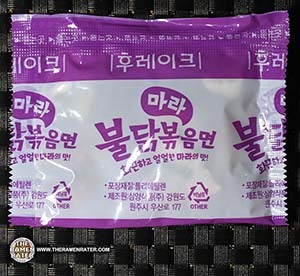 The vegetable sachet.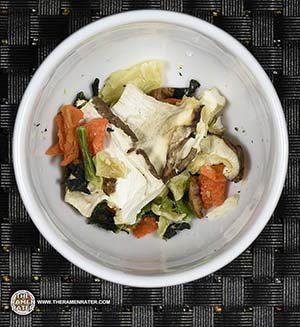 Not sure what all we have here but looks like maybe mushroom, carrot and TVP?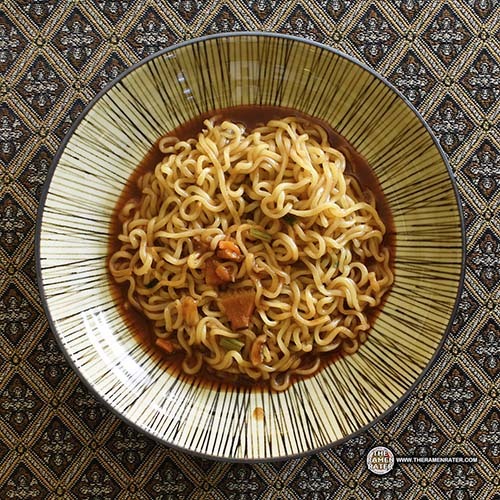 Finished (
click to enlarge
). The noodles are plump and chewy. They are the perfect vehicle for the sauce. The flavor on this one is fiery, with a nice Sichuan pepper drop in there. I expected more Sichuan pepper, but it really works well. The flavor is a bit different too; hard to describe - maybe some soy? The bit of mushroom were ubiquitous and of nice quality. A fiery feast to Melt your face! 3.75 out of 5.0 stars. EAN bar code   8801073113619.
Product of Korea.